EA Playfish Veterans Popular Free-To-Play Artic Adventure Game Arrives on Android Marketplace
London, United Kingdom – September 12th, 2012 – Supersolid, a new independent micro studio with a hunger to create fresh new mobile gaming experiences formed by veterans of EA Playfish, today announced the launch of Super Penguins, their 3D runner free-to-play debut adventure release is now available on Android Marketplace for Android handsets and tablets.  Download Super Penguins to your Android handset and tablet here, or for iPhone, iPad or iPod touch now from the App Store here.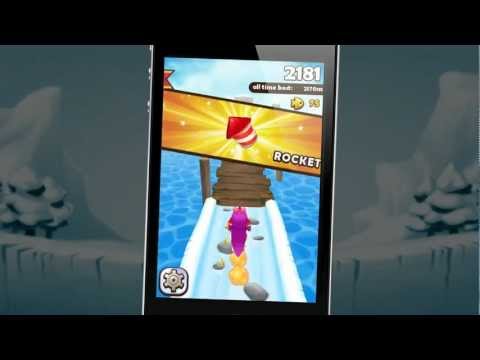 "Combining simple touch and tilt controls, an easy to pick-up but difficult to master learning curve and an adorable art style, we are excited that Super Penguins is now available to Android users," said Michelle Chuang, co-founder of Supersolid. "We've been astounded by the positive feedback from iOS players since our summer launch and look forward to feedback from a whole new community of mobile players".
Android Screenshots
In Super Penguins help the Penguins save their friends in an Artic adventure, as you select from a number of adorable characters to run, jump, and fly your way to victory against a host of evil octopuses, collecting awesome power-up's, gold fish and rescuing artic friends along the way.
iOS Screenshots
With simple 'touch and tilt' controls, colourful graphics and a whole host of power-ups, Super Penguins also features a wacky soundtrack specially composed by Disasterpeace – composer of the award-winning Xbox Live Arcade hit FEZ – as well as full social media integration, allowing you to share high scores and pictures via Facebook and Twitter, making it fun for all your friends and family.
To learn more about Super Penguins and Supersolid please visit: http://supersolid.com/home/
About Supersolid Ltd.
At its helm, Supersolid has three of the most respected former senior members of EA Playfish – one of the most well renowned social game companies in the world – these are: Kenneth Fejer, former Creative Director; Tommy Chuang, former Lead Programmer; and Michelle Chuang, former Art Director. As the brains behind some of the most commercially successful products that have been put on the market in recent years – such as Who Has The Biggest Brain?, Restaurant City, Pet Society, and The Sims Social – and with over ten years' experience of developing mobile and social games between them, you can be sure Supersolid have all the tools and innovations to succeed.
Related Posts: