Rise Against, Jaytech and Heatbox Offer Up More Options for Experimentation in This Musical Sandbox Experience
Minneapolis, Minnesota – September 6, 2012 – JAM Live Music Arcade tosses away the tired, mundane way of yesteryear's rhythm games in favor of a new take. Making the music your own, JAM is "one of the most innovative, complex and rewarding music experiences you can find," according to XboxAddict.com, scoring 88 out of 100. With today's new DLC drop, Rise Against, Jaytech and Heatbox's music is now available on Xbox LIVE® Arcade for the Xbox 360® video game and entertainment system from Microsoft and PlayStation®Network to take this solid experience to the next degree.
The third single from Rise Against's seminal 2008 "Appeal To Reason" album.
Featured on Above & Beyond's 'Anjunabeats Volume 9′ compilation released in 2011.
"I Love To Loop" by Heatbox – $.99/80 MS Points
A fun beatbox mix full of organic sounds all generated from a human voice produced from the ground up for JAM Live Music Arcade.
"There are a ton of well executed ideas at work here that allow almost anyone to not only remix songs with an in-depth editor, but to get a new appreciation for the art as a whole." – Capsule Computers, 8 out of `10
"Like an aging rockstar who has been called back into action, it's probably been awhile since you last picked-up and played your Rock Band or Guitar Hero plastic guitar. Developer Zivix gives a pretty compelling argument as to why you should do so with JAM Live Music Arcade." – Brutal Gamer, 8.5 out of 10
"Jam mode is definitely where the heart of this game lies, and with its infinite possibilities… it is something that can be revisited again and again." – Play Legit, 3.5 out of 5
Be sure to check out the launch trailer here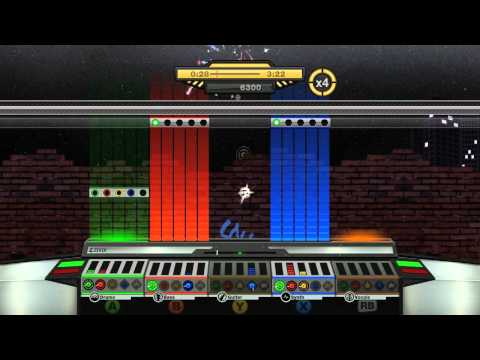 JAM Live Music Arcade is a completely new approach to the music genre with a real-time live music sandbox "JAM Mode" that allows the player to immediately build and customize their very own tunes, as well as a bonus "Arcade Challenge Mode" that plays similar to traditional music games. Starting with any one of the 30+ licensed songs featured in the game (including hits from Modest Mouse, Fallout Boy, Fatboy Slim, Owl City, Rise Against, Atmosphere and more), players jam with and remix all aspects of the song – guitar, bass, drums, synth and vocals – to experiment with the song and re-create it to their own personality. All of this is done with any one of the numerous compatible guitar gaming peripherals – the entire band is in your hands! Accessible and easy to get started, yet deep and almost endless to master, everyone can touch real music across a broad range of sonic tastes. JAM Live Music Arcade offers an immersive level of musical interaction that's inspiring, powerful and contagious.
JAM Live Music Arcade is one of the latest additions to Reverb Publishing's growing roster of titles, which includes the massively successful Dungeon Defenders, the recently released Jeremy McGrath's Offroad, the upcoming Sanctum 2, Primal Carnage, Ravaged, Black Knight Sword and much more. For more information about the game, please visit www.jamlivemusicarcade.com. Also, be sure to visit https://www.facebook.com/JamLiveMusicArcade and 'Like' the page for a chance to win lots of great prizes. For more information about Zivix LLC, please visit www.zivix.net. For more information about Reverb Publishing and its initiatives, please visit www.reverbpublishing.com.
About Zivix:
Zivix, LLC combines innovation, technology and entertainment through gaming software and music peripherals. Based in Minneapolis, MN Zivix is an entertainment software developer and publisher that has also created a patented finger-sensing technology that enables a new generation of digital guitars. Our core mission is to combine the experience of playing an instrument and real musical interaction through accessible, fun and rewarding products for everyone.
About Reverb Publishing:
Founded in 2010, Reverb Publishing offers digital publishing to independent game developers on PlayStation Network, Xbox LIVE Arcade, Wiiware, PC, iOS and Droid, by combining production and business development support paired with the proven public relations and marketing agency expertise from its parent company, Reverb Communications. Reverb Publishing's unique business model is form fitted for studios, ensuring that they receive the majority of the game's revenue and maintain ownership of their titles while Reverb handles all the non-developmental tasks including production support, navigating QA, and preparing for product submission.
The PR veterans at Reverb Communications have worked on recognizable brands like Guitar Hero, Rock Band, The Beatles: Rock Band, Dance Central, Star Trek Online, as well as stellar digital titles like Battle Slots, Army of Darkness, BloodRayne: Betrayal, Kung Fu LIVE and the critically-acclaimed Dungeon Defenders.
For more information about Reverb Publishing, please visit www.reverbpublishing.com.
Xbox, Xbox 360 and Xbox LIVE are either trademarks or registered trademarks of the Microsoft group of companies.
Related Posts: