It is as addictive as bubble-wrap and it is deceptively challenging. Every time you burst a zombie's head, it is reminiscent of that terrible zit that was on your face and the remnants of popping that zit are now staring at you from your mirror. It is fun. This is what to expect when playing Zombie Burst, published by CatFoster Media.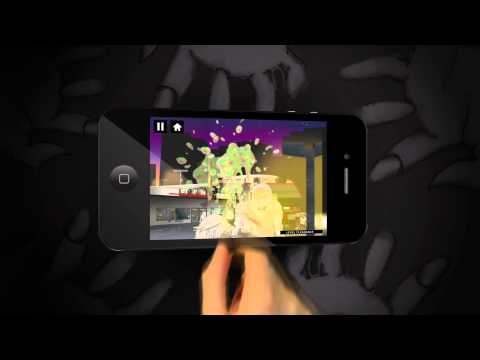 When I first started to play this app, I did not expect it to be as fun, addictive and challenging as it was. Especially from a game that only requires the use of two fingers swiping into either side of a zombie's head. But the more zombie heads you pop, the more ooze is splashed all over your screen, the more difficult it becomes to clear the messy, puss-filled brains from the screen, the faster the zombies approach, and next thing you know you're yelling, "OMG! WHY WON'T YOU JUST DIE, YOU PUSS-FILLED ZOMBIE! DIE, DAMN IT!", and then CRASH, the zombie is bitting you, leaving a 'broken' screen, making it even more difficult to see the hordes of zombies hurriedly approaching you.
I found there to also be a bit of a learning curve. If you are a button-masher, especially if you are playing this game on your iPad, learning that you only need to swipe the screen very lightly can pose a bit of a problem for some. And, even if you use light swipes, as more zombies start to come after you, in a hurry, you may apply more pressure than necessary and this can cause finger fatigue. I never thought it possible to get the iPad equivalent to Chandler Claw Hand.
If you do have an iPhone and an iPad, I recommend playing the app on your iPhone, especially if you have small hands. Because my hands are so small, it took me a bit of trial and error to find the most comfortable position to place the iPad on my lap so that I could play. There is no way that I can play the game on the iPad if I'm holding it. However, this problem is easier to fix on the iPhone, even if it did take me a little bit of time to figure out how best to hold my phone while playing.
Another thing I appreciated about this game is that there is a back-story, if are into that sort of thing. If you are not interested in that sort of thing, you can skip the back-story.
For $0.99 in the AppStore, Zombie Burst is more than worth the price, especially if you are frustrated with someone. Just launch the app, picture their face on the zombie's faces, and pop their heads like the annoying zits they may be.
For additional information on Zombie Burst, please visit http://zombieburst.com/index.html.  Like them on Facebook at https://www.facebook.com/ZombieBurst. Or follow them on Twitter at http://twitter.com/#!/zombieburst.
About CatFoster Media:
CatFoster Media was founded in Los Angeles in May 2011, by Lauren Foster and Christine Tseng with the goal to publish innovative, fun and interactive apps.  The team at CatFoster Media works daily at building a socially responsible company that creates edgy and entertaining games to stand out in the App world. For more information on CatFoster Media please visit http://www.catfostermedia.com/.
A copy of this app was provided for the purposes of this review.
Related Posts: