Experience the dizzying life of a top-notch chef and restaurateur as you prepare all manner of exotic meals on your way to building your own restaurant empire from the ground up! Explore an island paradise to discover and play in fun and unique locations.
Along the way you will face picky patrons, snobby food critics, one grouchy health inspector and more.
Features include:
New restaurants, characters, and music to go along with re-sampled audio, visuals and full support of the 3D slider feature.
Newly revamped controls to take advantage of the Nintendo 3DS™ touch screen.
Whimsical humor offers a balance to the manic table-juggling game play.
Do you have the skills to manage your own restaurant and mastering all that is required!?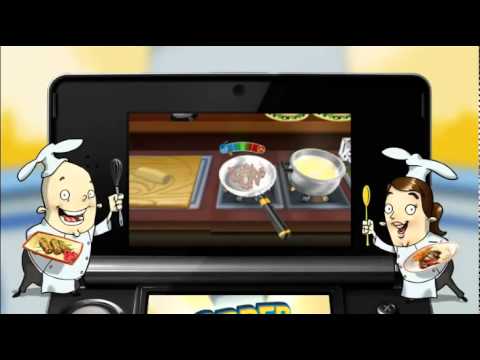 A free downloadable demo is also available from the Nintendo eShop.
Order Up!! will be available to download from the Nintendo eShop priced at $9.99 on June 21st.
Rating:  E (Everyone) / Comic Mischief
Nintendo trademarks used under license. Nintendo 3DS is a trademark of Nintendo. © 2011 Nintendo.
© 2011 TSC Games, Inc.  All rights reserved. Published by Ignition Entertainment Ltd.   Order Up!!,the Order Up!! Logo, SuperVillian Studios and the SuperVillian Studios l of are trademarks of TSC
Related Posts: