You may have already seen the following. It is another awesometastic thing that became available while I was away on staycation. If you've yet to see and download this awesome, I'm glad I could finally bring it to your attention. If you've already seen and downloaded it, I think it is safe to say, you don't mind seeing and listening to it again.
What exactly is this thing? It is Symphony of Science's 15th song – We Are Star Dust,  featuring Neil DeGrasse Tyson, Richard Feynman and Lawrence Krauss.
As always, you can download the song for the price of free! The best way for you to do that is to visit their Bandcamp page, where you can download it in a variety of formats and, even though it is free, optionally pay a bit of money for the track.
Below is the video and the lyrics. Enjoy!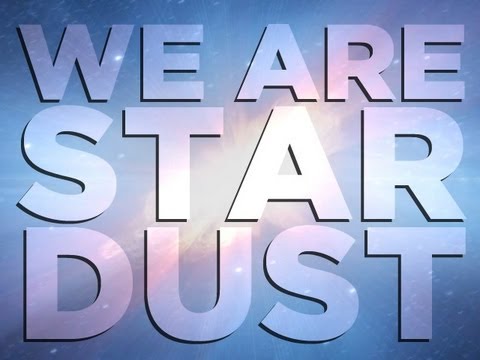 [Neil deGrasse Tyson]
We are part of this universe
We are in this universe
The universe is in us
Yes, the universe is in us
[Lawrence Krauss]
Every atom in your body
Came from a star that exploded
You are all star dust
From a star that exploded
[Tyson]
Look up at the night sky
We are part of that
The universe itself
Exists within us
We are star dust
In the highest exalted way
Called by the universe
Reaching out to the universe
We are star dust
In the highest exalted way
Reaching out to the universe
With these methods and tools of science
[Richard Feynman]
Stand in the middle and enjoy everything both ways
The tininess of us;
The enormity of the universe
[Tyson]
The atoms that make up the human body
Are traceable to the crucibles
That cooked light elements
Into heavy elements
These stars went unstable in their later years
And then exploded
Scattering their enriched guts
Across the galaxy
[Refrain]
[Tyson]
We are part of this universe
We are in this universe
The universe is in us
Yes, the universe is in us